Heroes of the Storm Ranks: A Perfect Match
As any other aspiring electronic sport, Heroes of the Storm has ranks. Ranks are more than simple accolades bestowed on players to provide them with bragging rights. They serve a higher in-game purpose and help build a more meaningful gaming environment for players of all stripes. If you are itching for a decent game, then Blizzard's way of breaking down people into skill sets helps you do just that. A perfect match of contesters is not uncommon, and you get to compete with people who play at your own pace. Understanding the Heroes of the Storm ranking system requires some closer examination.
Heroes of the Storm Ranks: Before Climbing Up the Ladder
Inevitably, you have been playing many Quick Matches. Blizzard have done an excellent job of keeping things casual and professional at the same time. As with other MOBA games, although Heroes of the Storm likes to call itself a hero brawler, there is a lot to take in at first. Even without gold and items to keep track of, the versatility of talents, efficient builds and learning the quirky sides of abilities will take sufficient time.
As a result, before even flirting with Heroes of the Storm ranks, you have to level 14 heroes up to Level 5. It is worth noting that HotS has a dual progression system whereby both the player's account as well as individual heroes shoot up in the ranking. Levelling a hero up to Level 5 will reward you a small heap of gold, which is contributed to your funds for purchasing in-game goodies, including toons, later on. It may be well worth levelling more than 14 heroes up to level 5, if not for the money, then to garner a better understanding of the game.
Placement Within Heroes of the Storm Ranks
Now that you have cleared the hurdle of sorting out your heroes, you may begin ascension. The first steps towards progressing in the Heroes of the Storm ranking system is determining one's natural aptitude for the game. A series of matches crunch the numbers and come with an average matchmaking rating, which then has you sent off to one of the tiers and the sub-sections known as divisions. You may notice that players in the placement stage of the game are eager to win and this will be your first brush with more dedicated team play, and very likely some ill-mannered competitors.
Top HotS Betting Bonuses!

Betting Site
Deposit & Cashout Options
Bonus Amount
Required Deposit
Start Playing

888sport

Debit/Credit Card, PayPal,

Neteller, Paysafecard
$30
$5

Claim

your bonus

bet365

Debit/Credit Card, PayPal,

Neteller, Paysafecard
£100 in Bet Credits
£5

Claim

your bonus
18+ begambleaware.org. New customers only. Min deposit £10. Money back as bonus if first bet loses. Wagering requirements: sportsbook 3x at min. odds of 1.40 (2/5), casino 35x. Unless forfeited the sportsbook bonus must be wagered before using the casino bonus. Bonus expires 7 days after opt-in. No deposit required for NI customers. Call 08081699314 to claim. Full T&Cs apply. #AD

10Bet

Debit/Credit Card, PayPal
$200
$15

Claim

your bonus
* T&C's apply, click CLAIM Your Bonus for details
Of Tiers and Divisions – An Interesting Patchwork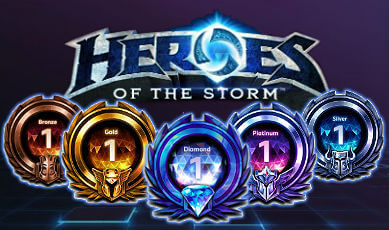 Welcome to League Tiers. It is here that your actual climb to glory begins. Overall, there are five tiers, starting with Bronze through Silver, Gold, Platinum, Diamond, and finally Grand Master. All tiers up to Diamond included are then further broken down into five Divisions each. The divisions range from 5 to 1, with five being the lowest.
Inching up from one League Tier to the other, or division for that matter, you will be allowed to play a Promotion Match after accumulating 1,000 rank points. Upon victory, you can progress one tier or division up. If you lose, on the other hand, the stakes are not as high as that. Simply, the usual amount of points is detracted from your standing and you remain in your current tier or division.
The Heroes of the Storm ranking system, on occasion, takes you down a notch. Briefly, if your ranking points plummet to 0, you will then face a Demotion Match, and if you lose, then move onto a lower tier or division.
Hopefully, one day you may make it all the way to Master and Grand Master. Overall, the 200 best players in the Hero League and the top 100 players in the Team League will make it to the Grand Master series, which pits the top brass against each other.
Understanding the Heroes of the Storm Hero Ranking
You will have two decent choices to enter the competitive world of Heroes of the Storm ranks. First off, you may decide to rough it and plunge into battle alone. This is where the Hero League comes in handy. As a player, you may benefit from nerve-racking, high-paced games, which will help you hone your skills as a player against equally-determined-to-win opponents.
There is also an inherent monetary incentive to be progressing through Hero Ranking. You are entitled to exclusive avatar, mounts as well as some minor gold rewards, which will contribute towards unlocking new heroes and desired in-game goodies. If you have decided your mind to play exclusively in the Hero League, then you may refer to our great hero tiers list to help you single out the best toons currently available.
Heroes of the Storm Team Ranking: Blowing Up Things With Friends
If you like feeling a part of a community, you may then consider playing the Team League. Apart from the fact you will be gaming with your friends, old or new, you are also on the receiving end of Blizzard's generosity. If you gang up with fellow players, you will get a decent boost to your experience and gold after each match, which makes Heroes of the Storm Team League as one of the most lucrative in terms of earning potential.
While this is true, you can also expect battle-hardened bands of players who know how to lay waste to an opposing team quickly and efficiently. In a sense, plunging right into Heroes of the Storm team ranking may leave you at a disadvantage unless you are prepared to step up your game. Understanding the Meta and building around proven builds is one way to ensure that a group of players move up the ranks rather than being sucked down to the dredges.
Matchmaking Rating and Finding Your Place Under the Stars
Matchmaking rating is the staple currency of determining one's Heroes of the Storm rank. It essence, it is calculated based on the games you win and the games you lose, and the ratio between both groups. Coming out victorious of a match, the game crunches the numbers for you, trying to award you MMR points according to your own performance throughout the contest and your team's average MMR. In addition, if you win against a team with a higher MMR score, then you will be rewarded more points whereas your opponents will suffer a greater loss.
To incentivize their player base to pursue various roles within the game, Blizzard have told their MMR system to focus on different attributes when it comes down to individual heroes. In this sense, you will see loads of statistics, which have varying impact on the final MMR, depending on what role you are playing. A special emphasis is put on the healing amount output by healers for example whereas specialists and heroes that specify in landing successful crowd control effects benefit from this greater than a ranged assassin, for instance.
There have been a few bugbears with the current MMR, which has misplaced people disproportionately of their skill level in the latest season, leading to some heated discussions within dedicated communities. Blizzard meanwhile has confirmed it is looking into the issue.
How to Effectively Advance Through Heroes of the Storm Ranking System
Advancing through divisions and tiers in Heroes of the Storm is not an easy task, but it is all the same mighty amusing. We have pointed out to the differences between Heroes of the Storm Hero and Team ranking. On top of that you will do to supplement your knowledge with our detailed tips section where we have gone in-depth on gameplay and honing one's skill to excellence. You may want to supplement this read with our introduction to the hero system. Behind every successfully earned Heroes of the Storm rank, there is a lot of hard work and smart play:
Select a character that you feel comfortable playing with;
Learn about what talents work and what don't, use a Try Mode;
Learn to counter-pick and ban heroes you would rather not want to face;
Know the objectives of every map so that you may adapt to abrupt changes;
Follow up with patch notes to stay on top of the current Meta;
A New Heroes of the Storm Season Ranking Season Begins
We are on the cusp of the, Heroes of the Storm Global Championship (HGC), a massive event that gives quite the incentive to aspiring professionals to try better and esports enthusiasts to go to boomakers and plunk hard-earned currency on the outcome of a quick-paced skirmish. The Heroes of the Storm ranking system introduces Blizzard's take on how people should be matched in terms of skill. The recent misstep is no reason to doubt their worthiness of forging a yet better future for one the best hero brawlers out there and a grand competitor to rival titles.