888 E-Sports – Joining the Digital Fray
In our 888 E-Sports review, we examine one of the most attractive bookies out there. They have branched out into all areas of gambling and betting. Recently, eSports have found themselves a new home in a dedicated section. In-play options whet the appetite of the average gaming enthusiast and a generous sign-up offer is reason enough to open an account and get down to action.
The abundance of markets available on any given day guarantees that there is a whole lot to enjoy while gunners shell each other, and sorcerers unleash potent vortexes of pixelated fury. 888 E-Sports is a down-to-earth bookmaker. Their website loads at a fair clip. The eSports section is rich and easy to navigate, and the selection of games is enough to equally humour hero brawler fans and first-person shooters enthusiasts. The addition of live betting contributes to the overall enjoyment punters experience.
$30

Free Bet
* T&C's apply, click CLAIM BONUS for details
General Info
Website:

888sport.com

Founded:

2008

License:

Gibraltar

Minimum Deposit:

N/A

Withdrawal Time:

up to 10 Days

Support Options:

Telephone, Email, Live Chat
Rating
Bonuses:

5.0

Trustworthy:

4.7

Software:

5.0

Design &
Usability:

4.8

Customer
Support:

4.7

Overall Rating:

4.8
In every way conceivable, 888 is the benchmark for electronic sports betting done right. A mobile app is always on the ready to ensure that you can keep an eye of your punts wherever you are. Lastly, the seamless transition between sections and solid software, which powers the whole platform, seals the deal.
888 E-Sports Gallery
Making Your Presence Felt At 888 E-Sports – Choose Your Welcome Offer
Most bookies that put eSports on the table do not hammer together a separate welcome offer for it exclusively, neither does 888 for that matter. But the standard sign-up bonus is quite readily proffered to those who want to start their betting forays with a bit of financial heft.
As far as eSports are concerned, you could notch up $30 in free bets as soon as you commit $10. Interestingly still, you get two free bets each worth $10 and another one valued at $10 for a mobile. Not to put too fine a point, but 888 E-Sports wants you to get down to some intense multi-channel betting flurry. Even if you are not a mainstream sports fans, perish the thought, you can still benefit from some exclusive weekend bargains for live football and others.
The bonus applies to eSports and mainstream sports alike
The deposit amount must be played through 10 times
Minimal odds of 1.50 (odds may be displayed in various formats)
Bonus amount is received after placing a minimum bet of $10ents.
What are the Betting Odds and Markets Available?
888 E-Sports will strike home with you from the very beginning. Mostly because it covers a large number of markets. We are huge Heroes of the Storm fans. We have shared our thoughts on what heroes to pick and how the ranking system works, and 888 E-Sports has been covering the HGC, the Mecca of HotS fans.
But there is more. In running the odds against those of competitors, 888 E-Sports comes in the top few you should be betting at. Having accurate odds levels the field for the bookmaker and us punters alike. Lastly, in the grand scheme of things, it all comes down to pure skill and intimate knowledge with the competitive scene.

Pros and Cons
Great titles to pick from
Sufficient offers running every day
Acceptable starter's bonus offer
Honest odds
Live betting feature
Native mobile app
Informative general betting blog
On occasion their website tends to slow down
As a recommendation, they can feature more eSports promotions
Payment Methods
You will not find yourself in shortage of payment options. Multiple ways exist to fund and withdraw from your account. Mobile payment and offline options are quite readily accepted let alone debit and credit cards. Mind that if you are a US punter, you could run into trouble clearing a deposit through the banking system, as some banks may be reluctant to fund betting accounts. Still, if you opt for a credit card go with VISA or consider using a gift card instead.
Min Deposit

: $10

Min. Withdrawal

: $3

Max Deposit

: Varies

Max. Withdrawal

: No Limits
* T&C's apply, click VISIT for details
Naysayers can chalk it up to the time of the year, but 888 E-Sports runs between 100 and 300 open bets at any given day we have seen so far. Virtually every major eSports event has been featured and a few low-key ones are modestly showing up.
Live Betting – Sharing the Triumph of Pros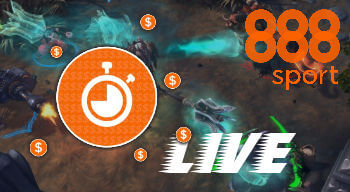 888 E-Sports is no run-of-the-mill thing. The in-play feature has long been adopted to cover all mainstream events and it has recently added electronic sports. Live eSports may be a fast-paced action, which keeps your pockets in a state of uncertainty, but it is all the same an exciting way to accumulate a tidy profit.
If you set out to bet as you watch live events transpire, we will advise you to always tune in and watch the games live. With so many events happening all over the place, it is not as barmy as it may seem to actually go and attend an event in person. After all, 888's mobile app is designed to help you wager bets from pretty much everywhere.
Mind you, video game competitions are not aired on 888 E-Sports, but Twitch will suffice. In fact, you are more likely to opt for the mother-of-all streaming services than bother with a bookmaker's own offer and the good chaps from 888 are fine with this. Do account for possible delay in how odds are displayed and how streams run, though!
888 E-Sports – the More, the Merrier
Navigating to the eSports section and staring at the number of available markets certainly excites the imagination. A further breakdown of the video games available is then offered. 888 E-Sports has done an excellent job of categorizing titles by leagues and tournaments.
cod

csgo

dota-2

hs

lol

ow

rl

sc2

smite

wot
From the Overwatch League to intergalactic clashes in StarCraft II, the bookie has you covered. Titles such as Dota 2 and League of Legends steal the spotlight with the bulk of all available punts you can place. One title that is not featured is the Call of Duty series, which could be just a momentary thing. Competitions in CoD pick up around the time of a new release and tend to peter out by the end of the year.
With this in mind, if you are clearly good at eSports betting, it is well worth examining other segments. All bookmakers are running up against slim odds, meaning you have a good chance to win by drawing on your visceral understanding of a video game. It could be worth unpicking other titles and making use of some accumulator bets. Right now, there is a particularly fetching Acca Attack offer that yields substantial monetary rewards.
Great Customer Support Service
Live Chat

0800 047 0965

support@888sport.com
888 E-Sports could have done a little better in the way of customer care. They have dispensed with a live chat button altogether. Instead, customers may reach out via phone and e-mail seven days a week. However, phone lines will stay open until 22:00 GMT +0, which should suffice to settle any mishap.
We cannot entirely fault the bookie for their decision not to include a live chat option, as such features can sometimes be uncouth and with loads of punters tuning in to seek answers, resources may be shifted from fixing problems to keeping everyone happy with timely responses.
As your fellow punters, we would rather drop a line and get results. Failing that, there is always the possibility of ringing them up.
Out Two Cents
* T&C's apply, click CLAIM for details
With this, we will conclude our 888 E-Sports review. Overall, the bookmaker has done a decent job of covering a market that is generally dreaded by competitors, as it tends to generate substantial losses for operators. 888 E-Sports not only bucks the trend, but it quite defiantly is willing to take you up for in-play betting and expands into a dizzy array of betting options.  Add ironclad odds with perhaps just the occasional chink to an inviting welcome offer and decent prospects for the future of the segment, and 888 E-Sports comes well up in the list of recommendations when it comes to eSports betting action.