Betway eSports: Where the Smart Money Is
It is an excellent time to be alive if you are a fan of electronic sports. With the scene booming, bookmakers have been making tentative efforts to enter the fray for the heart of the average gaming enthusiast. Some like Betway eSports have done an outstanding job in terms of odds and competitive bonuses, as well as covering a variety of markets. Their offers draw punters from far and wide, and eSports betting is now another important aspect to the industry of video games played competitively.
In the seemingly obscure world of electronic sports betting, there is a lot of profit to be had. Smart punters know exactly how to turn a frivolous wager into a solid return. Most of the time, it boils down to finding a decent bookmaker where you could deposit money safely. Well, you have. Betway runs its very own eSports specials and you will not see yourself in shortage of options, and a handful of challenges along the way.
$30

Free Bet
* T&C's apply, click CLAIM BONUS for details
General Info
Website:

sports.betway.com

Founded:

2006

License:

Malta (MGA/B2C/130/2006)

Minimum Deposit:

$10

Withdrawal Time:

2 Days

Support Options:

Telephone, Email, Live Chat
Rating
Bonuses:

4.5

Trustworthy:

4.0

Software:

4.5

Design &
Usability:

4.5

Customer
Support:

4.7

Overall Rating:

4.5
Every Little Helps: eSports Promotions at Betway
Betway eSports has been crafted with the punter in mind. The quick and easy navigation makes exploring the website a leisurely activity. Plunge to the eSports section, which has its own prominent and dedicated tab, and you will end up with all events you can currently bet on. In the mid-section of your screen, right above the current games, you find a large banner that periodically transitions between promotional offers.
Promotions hold such fascination over the minds of eSports buffs. They are exciting and ticklish. They quickly prompt you into action and flatter you by suggesting that you could tease some pretty difficult odds successfully. Currently, Betway eSports is running some tempting bargains:
LCS Finals - MB All Losers
Weekly Free Bet Objectives
ESL Pro League Season 7
Betway eSports Gallery
eSports Betway – Hammering the Odds, Knowing the Market
In its own unique way, Betway eSports manages to stay afloat with a plump choice of markets and nail-on-the-head odds. If you have been perusing Reddit, then you may have stumbled upon discussions about people who have been happily notching up profit out of bookmakers.
The best thing about those stories is that they are not bogus. Perhaps you didn't know, but 90% of all sports offers usually generate profit for your average gamer-turned-punter. In the face of such promising statistics, Betway holds its end well.

Pros and Cons
$30 free bet welcome offer
Live betting available
Weekly eSports promotions
Variety of eSports markets
Convenient iOS and Android mobile apps
Outstanding 24/7 customer support
E-wallets deposits don't qualify for the welcome bonus
Doesn't accept players from the US
Deposits and Payouts
So far as bankroll options go, Betway eSports does not stint. You can deposit and withdraw from your account using a debit or credit card. E-wallets are also a possibility, but they aren't recommended, as they disqualify from the sign-up offer. Then again, if you value the extra layer of security they provide, you may still forego a bonus for this. Speaking of security and anonymity, you may opt for bitcoins – digitalized blockchain tokens that have been adopted en masse in Internet transactions.
Min Deposit

: $10

Min. Withdrawal

: $10

Max Deposit

: Varies

Max. Withdrawal

: No Limits
* T&C's apply, click VISIT for details
The playing field is level and you may dabble in all sorts of markets as long as you understand them. And, if you need some help getting started, then you may quickly drop by the Betway eSports Blog and study up for the upcoming pixelated championships.
Ultimately, being a dab hand at betting will stem out of your understanding of the product you are risking your money on. You will need to do your due diligence if you expect to beat the bookies, but the odds seem to favor you.
Live Betting and Streaming - HotS Action in Real-Time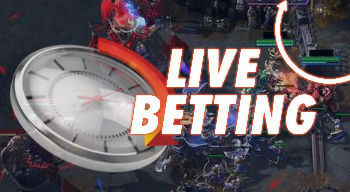 There is a vibrant market for live betting. And it could not be otherwise, with eSports events now outselling their mainstream rivals. Sold-out arenas bring together thousands of buffs who revel in the triumph of their favorite players. The numbers of simultaneous viewers around a major event are vastly more impressive. And the cumulative time people dedicate to watching eSports every month amounts to millions of hours spent in front of desktop or mobile devices. Betway has yet to introduce a live streaming option for electronic sports, but there are a handful of alternatives, which the bookmaker happily endorses.
Betway eSports – A Vortex of Titles
Electronic sports are a vast universe. There you have your sword-and-sorcery sagas the likes of League of Legends and Defence of the Ancients. Fast-paced shooter games like Counter-Strike and PLAYERUNKONWN'S Battleground are now teeming with viewership numbers. Call of Duty has long been a staple product, and recently Overwatch has been making splashes in the competitive world with the newly established Overwatch League.
cod

csgo

dota-2

hs

lol

ow

rl

sc2

smite

wot
Betway eSports offers an array of titles that will cater to all your betting needs. Much like other bookmakers, Betway opened its eSports section in the hopes of converting game buffs into regular mainstream enthusiasts. Now, the opposite may be true.
As bookmakers up the ante, they are focusing on providing punters with a good stock of odds and products. And it is easy for someone who has been around Dota 2 for a long time now to switch over to HotS. There is a great conversion among eSports enthusiasts who usually follow at least several games at the same time.
Better still, studies show that you are a young adult with plenty of disposable income. Betway eSports will gladly double your money or try to beat you at your own game.
Customer Support – Calling the Experts
Live Chat

0044 808 238 9841

support@betway.com
Betway eSports has an efficient customer care service that is linked with all other markets on the website. You may reach them by phone, e-mail and live chat and they are available 24/7.
It is worth noting that calls placed from landlines will be toll free whereas mobile calls could be charged. The live chat agents are usually expedient ad they update you on your issue in the matter of minutes.
The e-mail service is a bit slower, but just as comprehensive. You will receive an exhaustive account of what has caused your issue. Ideally, you could be asked to show some proof of identity, which has always been a bit of bugbear for the average customer. Remember to fill out your information truthfully when you open an account.
Final Thoughts on HotS and Betway eSports
* T&C's apply, click CLAIM for details
In honesty, Betway is not a bookmaker that will shrug off a title as competitive as Heroes of the Storm. Still its offerings are rather modest, but they spike around the time of a major event. You will find yourself with plenty of opportunity to bet on electronic sports.
And as the industry's still finding to establish a firmer foothold, we can expect the present to be a taste of what is to follow. The roar of the crowds will continue to reverberate off the walls of stadiums. What is left is for bookmakers to bring the masses to their betting shops. Betway eSports seems to be a on a pathway to success.